Home > News >[Menlo Security] Magic Quadrant for Secure Web Gateways
News
2018-12-04
[Menlo Security] Magic Quadrant for Secure Web Gateways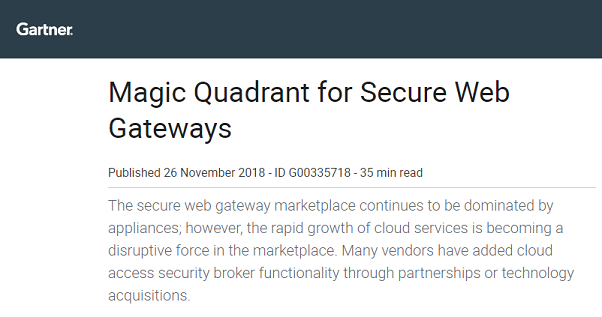 Market Definition/Description
The market for cloud-based secure web gateway (SWG) services continues to grow more quickly than the market for appliance-based SWGs. (The five-year compound annual growth rate [CAGR] for SWG cloud services is 32%, and the five-year CAGR for SWG appliances is 5%.) However, in 2017, more money was spent to purchase SWG appliances (74% of market revenue) than SWG cloud services (26%).
The primary driver for the growth of SWG cloud services is the rapid adoption of software as a service (SaaS) applications, particularly the dominant ones (e.g., Office 365 and Salesforce). Rather than backhaul web traffic over expensive Multiprotocol Label Switching (MPLS) connections, enterprises are implementing local internet breakouts from remote offices, and sending web traffic directly to the internet. This approach mandates a change to the enterprise's security architecture, and most are choosing to adopt a cloud-based SWG service. A distant secondary driver for the adoption of these services is the need to protect mobile users when they are off the corporate network.
Cloud access security brokers (CASBs) have emerged as an adjacent market to SWG ("Magic Quadrant for Cloud Access Security Brokers"). SWGs provide visibility into users' web behavior, and CASBs provide visibility into users' SaaS application behavior (for example, the SaaS applications they've visited and the risk rating of those apps). Many of the vendors in this Magic Quadrant have acquired CASB vendors, including Symantec (Blue Coat acquired Elastica and Perspecsys), Cisco (CloudLock), McAfee (Skyhigh Networks) and Forcepoint (SkyFence). Others, including Zscaler and iboss, have partnerships with Microsoft and its Cloud App Security CASB. In 2018, CASB vendor Netskope added basic SWG functionality to its cloud service. Gartner believes that the SaaS application visibility (and other functions) provided by CASB is an important element of web security, and we emphasized CASB capabilities more heavily in our Completeness of Vision scores this year.
Gartner has continued to monitor the impact of the remote browser isolation solutions on the SWG marketplace. These solutions render the image of a website in the cloud or on an appliance in the customer's data center, and send this image to a user's browser. This technique protects endpoints from typical web threats by executing and rendering all content remotely. Ideally, no malicious content is ever rendered by the user's browser, and web interaction can be tightly controlled.
This year, Menlo Security, the largest of the pure-play remote browser isolation vendors qualified for inclusion in this Magic Quadrant. We are also closely tracking Cyberinc and other vendors in this market. In July 2017, Symantec acquired Fireglass, another remote browser isolation vendor, and it now offers this capability as a feature of its SWG.
Another emerging market Gartner is closely tracking is cloud-based firewalls. Vendors in this market base their underlying technology on cloud firewalls and offer security stacks, including URL filtering, sandboxing and other functions. Vendors in this category include Cato Networks, OPAQ, CenturyLink (Level 3 Communications and its Adaptive Network Security service), and Palo Alto Networks (GlobalProtect Cloud Service). Gartner primarily sees these services in the midmarket, and their feature sets position them to compete against SWG vendors.
Magic Quadrant