Home > News >Forcepoint at RSA Conference 2017 Final Recap : Human Point !
News
2017-07-06
Forcepoint at RSA Conference 2017 Final Recap : Human Point !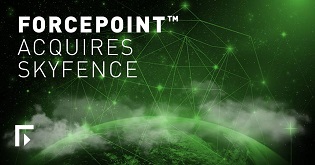 Forcepoint at RSA Conference 2017 – Final Recap
What an amazing event RSA Conference was this year! As a Platinum Sponsor, Forcepoint had a huge presence at the event and started the week off by launching our new strategic focus which is centered on enabling companies to drive toward what matters most: understanding people's behaviors and intent as they interact with data and IP wherever it resides.
Key highlights included Forcepoint CTO, Dr. Richard Ford leading a discussion between a legal expert, an academic, and a cyber engineer on the dangers to R&D and cybersecurity from anti-hacking legislation.
Forcepoint's CEO, Matt Moynahan, held multiple press interviews, presented a very thought provoking keynote that revealed our unique perspective on the security landscape, and helped us further our "protecting the human point" positioning. If you were not able to watch Matt's keynote live, please make time to watch the Matt Moynahan RSA Keynote replay.
In support of Forcepoint's new tagline and branding, we launched a new microsite just yesterday - TheHumanPoint.com - which provides a succinct explanation of our story. The site also includes a link to Matt's keynote from RSA Conference, interview with RSAC TV, the Human Point Research Report, and other content that support our strategy. A big congratulations goes to our Forcepoint Marketing Team – they did an outstanding job showcasing Forcepoint at RSA, rebranding our Forcepoint website and all the assets that support our new positioning! Great job, team!
In addition to the microsite – following are links to key content related to our "human point" positioning:

Congratulations to Jawad Toukna for having the most shares, retweets, and likes through Forcepoint Go during the RSA Conference week. Jawad has won an awesome Forcepoint YETI Cooler or $250 Amazon Gift Card. Remember to sign up for Forcepoint Go – it is a great way to stay connected on a daily basis. EVERY FORCEPOINT EMPLOYEE CAN BE A BRAND ADVOCATE! Share our story across Twitter, LinkedIn, Facebook – help us drive awareness for our Forcepoint brand and our story!